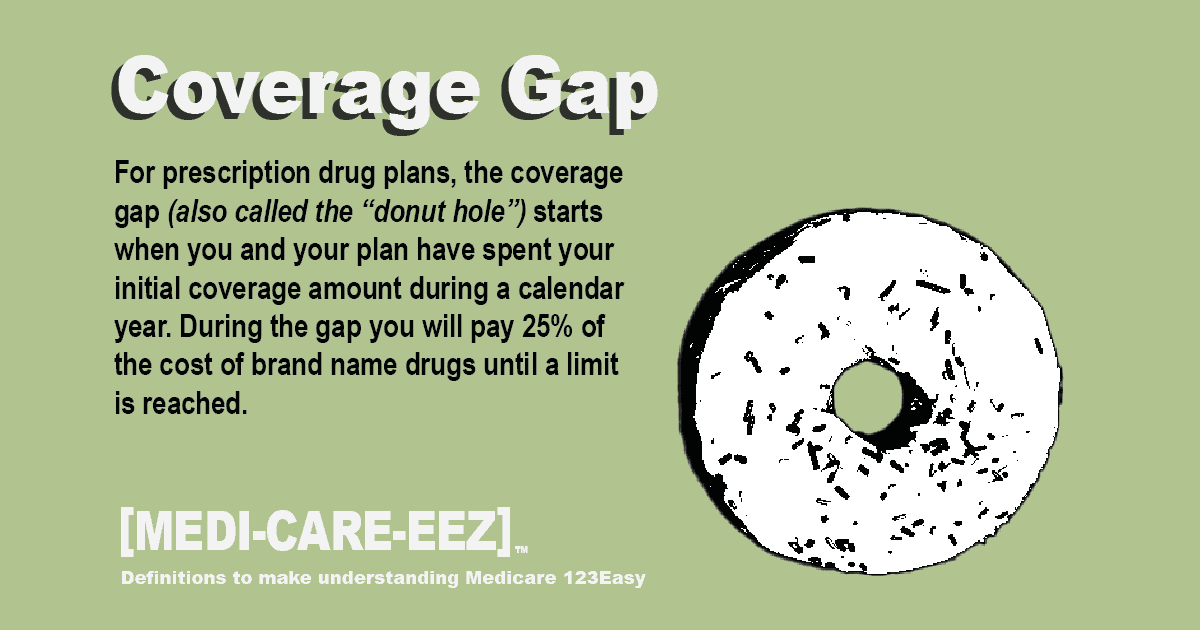 Official Definition:
"CMS explains that once you reach the coverage gap, you'll pay no more than 25% of the cost for your plan's covered brand-name prescription drugs. You'll pay this discounted rate if you buy your prescriptions at a pharmacy or order them through the mail. Some plans may offer you even lower costs in the coverage gap. Although you'll pay no more than 25% of the price for the brand-name drug, almost the full price of the drug will count as out-of-pocket costs to help you get out of the coverage gap. What you pay and what the manufacturer pays (95% of the cost of the drug) will count toward your out-out-pocket spending." – www.medicare.gov
[Medi-Care-Eez] Definition:
"For prescription drug plans, the coverage gap (also called the "donut hole") starts when you and your plan have spent your initial coverage amount during a calendar year. During the gap you will pay 25% of the cost of brand name drugs until a limit is reached."
More [Medi-care-Eez]™️ terms:
Meet with an expert
Schedule a visit
Meet with a Certified Medicare Planner™️ that can share every Medicare program available.
Attend a workshop
(Online & In-person)
Learn how Medicare works in a short 45-minute presentation